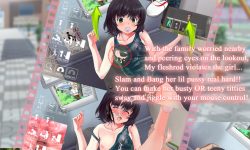 Overview:
This game provides you a realistic virtual experience of a certain XXX incident which happened two years ago. While the family worries and tensions rise at the scene, will you… Violate her over and over again, as many times as you want? Or treat her tenderly,
teaching the ins and outs of sex?*Special thanks to genl from ehentai. None of this would have been possible without their help.*
​Updated: Jul/21/2018
Developer/Publisher: studio WS
Censorship: Yes
Version: 1.0
OS: Windows
Language: English
Genre:
Loli, School, Swimsuit, Tiny Breasts
Change-Log:
Jul/21/2018 Updated to English Version
Extra Info:
[Characteristics]
– Realistically reproduces the situation of the XXX incident
(actions controlled by a mouse and icons)
– You can move the male protagonist's waist using a mouse.
– The girl can be customized (e.g. busty / flat-chested)
– Stress-free gameplay thanks to segmented icons and an autoplay function.
– Includes a variety of plays using items despite the urgent situation.
The scene will proceed to a "love hotel" part after the park part is completed.