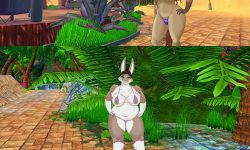 Overview:
High Tail Hall, also known as HTH, is an adult Unity game created by the artist Crowchild and his studio HTH Studios (formerly Pendragon Entertainment).
In it, the player's character can explore an island in an unspecified body of water, exploring the nature, ruins, and the titular "High Tail Hall", all while seeking intercourse with the furry characters on the island.​
Updated: 07-06-2018
Developer/Publisher: HTH studios
Censorship: no
Version: v0.1e Alpha
OS: Windows
Language: English
Genre:
Furry, vaginal, 2dcg, male protagonist
Thanks to @Lt. Aldo Raine for the bannerNotes:
-The Only interactive characters at this time are Rio and Jeanette.
-The only area that is currently accessible is the Visitor's Center; however, the region is much larger than the Visitor's Center that appears in the flash build. Please keep in mind this is an entire region not just one building. You would also have access to the Sapphire Monument, and the Lagoon.
-At this time the game does not have any actual freezes, just areas where the GUI doesn't show up "locking" the player in a screen with no way out.
-At this time we do not have a patch system implemented, simply delete the previous version and install the latest. Overwriting a previous build will cause errors
Change-Log:
v3.6b
Screen resolution/size does not always stayfull screen. Screen resolution does not save between play sessions.
Main Menulimitedto Play & Quit at this time
Escape menu is NOT working. The only way out in a lot of cases is to Alt+tab
Game appears to freeze when loading new level data. Levels will load, just takes a few moments.
GuidesMerileand Patty Dialog screen activate but are not functional/ Do not have ability to go back/ must alt tab to quit out
NPCs Rio and Jeanette bypass dialog screen entirely and load the first option available. Must alt+tab quit.
Caveentranceis functioning, however exiting the cave warps back to the dock. Minor but can be disorienting.
Falling off the map is possible if you dive off the edge.
Theoccasionalfloating tree.